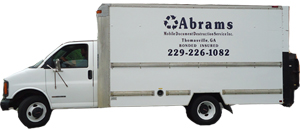 Secure Paper Shredding and Document Destruction in our
Secured Truck at Your Location or at Our Secured Warehouse

Flexible Business and Residential Services Include:
On-Site Shredding, Off-Site Shredding, and Drop Off



Abrams Mobile Document Destruction Service, Inc., also doing
business as Abrams Shredding, is a AAA-certified secure document destruction company serving business and residential customers large
and small throughout South Georgia and North Florida.
Our on-site and plant-based shredding services ensure a secure chain
of custody from the moment your sensitive material is inserted into our
lockable collection containers placed at your business, to the completion
of the paper shredding process either in our shredding truck at your location
or at our secured warehouse. You choose the service that works best for
your organization!
We are certified by the National Association for Information Destruction
(NAID) for mobile (on-site) and plant-based operations for paper/printed
media and non-paper media destruction. Our company adheres to the
stringent security practices and procedures established by NAID.
---



Member of
Thomasville & Thomas County
Chamber of Commerce

---
Contact Us today for more information about our Secure Paper
Shredding, Document Destruction, E-Recycling, and Hard Drive Destruction.
We serve the following Georgia cities: Thomasville, Boston, Moultrie, Quitman, Valdosta, Cairo, Bainbridge, Blakely, Pelham, Camilla, and Albany.
We also serve the following cities in Florida: Tallahassee, Perry, Madison, Quincy, Chattahoochee, Havana, and Monticello.

Our Services include Shredding, Shred, Mobile Shredding, On Site Shredding, Document Shredding, Document Destruction, Mobile Document Shredding, Paper Shredding, Paper Recycling, E-Recycling and Computer Hard Drive Destruction.